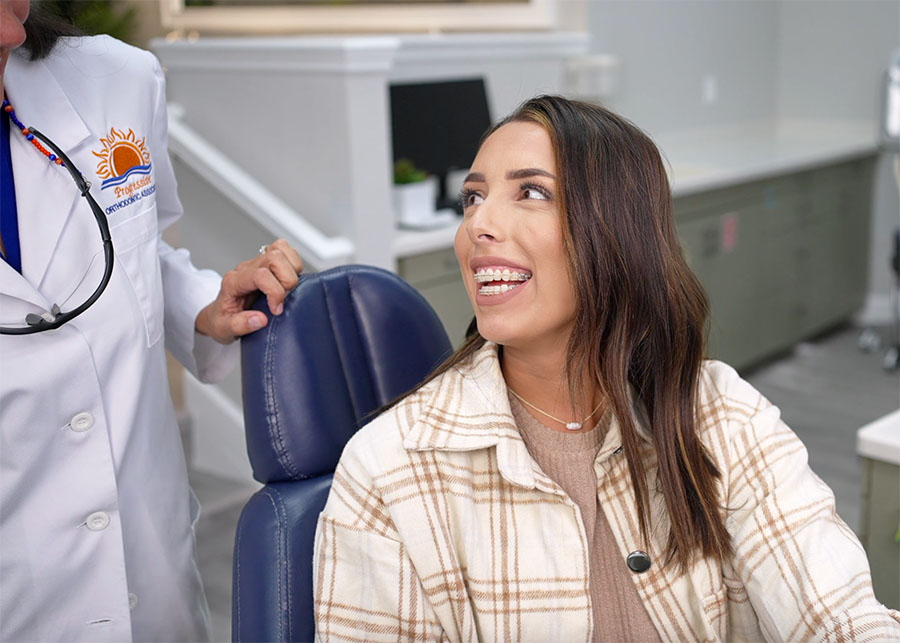 Ceramic braces work in the same way as their metal alternative but the components are much more toned down in appearance. The brackets, for example, are made from polycrystalline alumina or a form of ceramic which allows for a tooth-colored look that otherwise can't be achieved with stainless steel. Our Gainesville and Lake City, FL, orthodontists can also complement these camouflaged brackets with an enamel-colored archwire.
Learn more about
and their benefits below.
What Should I Know About Ceramic Braces?
Essentially, ceramic braces are just like traditional metal braces but there are a few key differences. The main difference between these two being that they do not stand out nearly as much. That's thanks to the low-key ceramic used.
Some patients may choose to go with a mix of ceramic and metal braces with the former being on the upper teeth. This allows for the least noticeable brackets and wires to be shown when smiling while the standard components are more "tucked away".
While wearing ceramic braces can correct many of the same dental issues as regular braces, they are more likely to become discolored or stained due to the lighter colored brackets. Discoloration is not guaranteed but our orthodontists do advise patients to limit or avoid beverages like coffee and red wine during treatment.
Important Benefits to Consider
If you're someone who has cosmetic concerns when it comes to orthodontic treatment, ceramic braces are likely high on your list. Great for older teenagers, college students, or working professionals, this subtle approach to braces reduces the chance you'll feel self-conscious when speaking in front of others or laughing with friends.
Ceramic braces also offer patients:
The same effective and proven technology as metal braces
Clear or tooth-colored brackets and wires that match natural enamel
A less allergenic option for those sensitive or allergic to nickel
Another discreet choice if they don't qualify for Invisalign® clear aligners
Find Out if Ceramic Braces Are Right for You
Start the conversation and ask our contact us online to request an appointment.
, about ceramic braces. Call one of our Progressive Orthodontic Associates offices today or