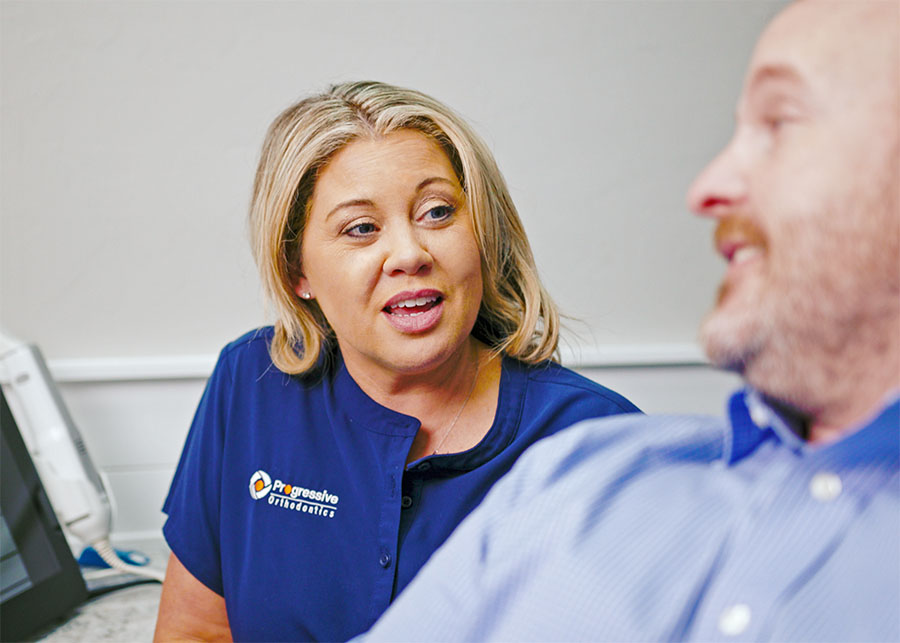 Feeling self-conscious about a "gummy" smile? Our Gainesville and Lake City, FL, orthodontists can use a specialized diode laser to safely remove excess gum tissue and expose more of your tooth's surface. This procedure not only provides a cosmetic benefit, but can also make it easier for our staff to place brackets or assist in a tooth's eruption.
Here's what you need to know about
.
What Is Diode Laser Treatment?
It may sound scary or intimidating, but diode laser treatment is straightforward and perfectly safe. The procedure itself involves one of our orthodontists using a diode laser designed for use in dentistry to sculpt gum tissue around the teeth.
Typically, shaping of this kind is pursued if the gums haven't receded properly and too much of the gum tissue extends onto the tooth's surface. When this happens, it can make adhering brackets and other components of ceramic or metal braces difficult.
Impacted teeth, or those that haven't erupted through the gums correctly, can also be helped by diode laser treatment. In this situation, our orthodontists will use the procedure to help a tooth emerge instead of waiting for it to erupt on its own time. Intervening in this way can also prevent the need for surgical orthodontics.
Lastly, diode laser treatment can be an elective procedure if you feel your smile would benefit from the appearance of less gum tissue. Our orthodontists will always perform an examination prior to moving forward with the treatment to determine whether it's necessary and would enhance the final results.
Benefits of Choosing Diode Laser Treatment
Whether you want your smile less obscured by excess gum tissue or our orthodontists recommend diode laser treatment for other reasons, you're in good hands. We have the years of experience needed to ensure the process is as quick as possible and you're comfortable throughout.
Advantages of Diode Laser Treatment include:
Minimally invasive
Little to no aesthetic needed for pain/discomfort
Less involved than a surgical procedure
Great solution for gum overgrowth
Achieve Your Best Smile
Our request an appointment online.
, may suggest diode laser treatment to enhance the look and function of your smile. Call one of our Progressive Orthodontic Associates offices today or