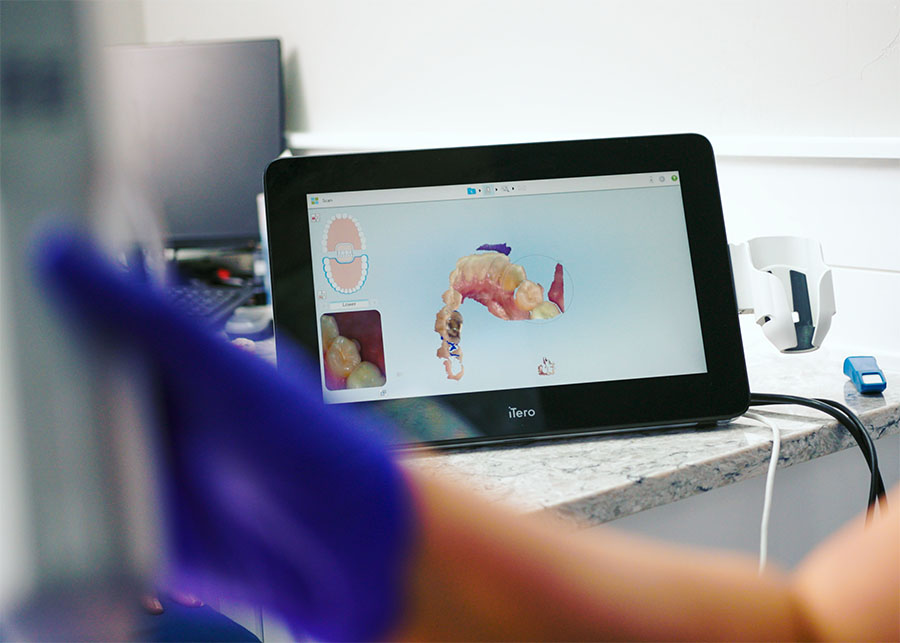 Taking digital impressions has never been easier than with the Gainesville and Lake City, FL, orthodontists can create detailed and accurate 3D images of your mouth in just a few minutes.
intraoral scanner. Forget the mess, goop, or unpleasant patient experience. With an iTero scanner, our
Here's what else you need to know about the iTero Element.
How Does the iTero Element Scanner Work?
Compared to traditional dental impressions, iTero digital scanners work in a similar way but are much more simplified in their process. There are no trays or putty-like material. Instead, the iTero scanner allows our staff to use a handheld wand to digitally take images of a patient's teeth and gums.
Moving the wand around the mouth generates images that are displayed on a nearby computer screen in real time. Scans are produced in color which helps our team better distinguish between gum tissue and tooth structures. We can also continuously scan as there is no need to stop and click to capture images.
The
has truly revolutionized and streamlined how we treat our patients. The laser that's emitted from the wand is safe, radiation-free, and capable of rendering a 3D impression of your teeth and soft tissue structures in only a couple minutes.
The Many Uses of Digital Impressions
Inside our Gainesville and Lake City offices, we use digital impressions created by the iTero scanner to plan out all types of orthodontic treatment. That includes:
Images taken during your appointment can also be used by our orthodontists to determine whether you need additional treatment such as a Carriere® Distalizer™.
Start Your Treatment Journey
Much cleaner, more accurate, and less messy impressions are in your future thanks to the iTero Element intraoral scanner! Our request an appointment online.
, can now capture all they need to get started in just a couple minutes. Call one of our Progressive Orthodontic Associates offices today or