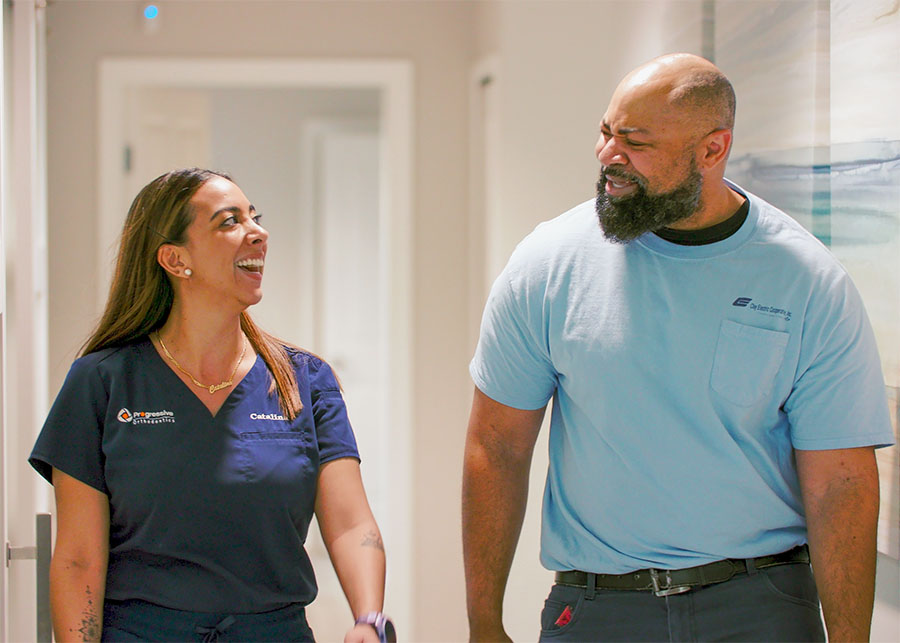 Our very own Progressive clear aligners are designed for patients who have minimal tooth crowding and other minor dental issues. While our Gainesville and Lake City, FL, orthodontists will still need to examine your smile prior to recommending this form of treatment, you can expect it to be much quicker from start to finish. If achieving ideal alignment in a short amount of time is your goal, these aligners may be for you.
Here's what else there is to know about Progressive aligners.
How Are Progressive Aligners Different?
Much like other
, Progressive aligners are worn over your top and bottom teeth for a predetermined amount of time which allows for an enhanced smile. All aligners don't share the same one-size-fits-all approach, however.
By this we mean that not all aligner types consist of the same number of individual tray sets or are designed to treat the same level of severity with regards to dental issues. For instance, Progressive orthodontic treatment solutions are too involved.
are primarily intended for patients who have mild crowding or misalignment and feel that other
Our orthodontists will carefully evaluate your current smile and if your malocclusion falls into the category of moderate to severe, we may recommend other discreet options like traditional Invisalign® aligners or ceramic braces.
What Getting Started Involves
The process will begin with a comprehensive exam that will confirm your candidacy for Progressive aligners. We'll then take digital impressions of your teeth using our iTero® digital scanner to produce 3D images that are sent to a lab for aligner production.
Trained technicians will use your specific scans to determine the most efficient set of movements needed to achieve ideal alignment. Once made, the aligners are sent back to one of our offices where treatment can begin.
Don't worry, your new aligners will come with detailed instructions on how and when to wear them. You can expect a tight feeling when you put on your first set but this is intentional. Each set of aligners will need to be worn for at least 22 hours each day and only taken out to brush, floss, drink (beverages other than water), and eat.
Make an Appointment Today
If you only need corrective orthodontic treatment for a short time, our request an appointment online.
, can introduce you to our Progressive aligners. We'll set you up with your sets of clear aligners and monitor your teeth as they move. Call one of our Progressive Orthodontic Associates offices today or